Africa Clean Up
ACI 2020 IMPACT STORY
Dear Sir/Ma,
2020 was indeed a year of many uncertainties. As we begin the opening stages of 2021 we can't help but reflect on how much impact we have made as a community.
2020 tested our resilience and the things that make us truly human, we were made stronger than ever because you sacrificed your time, resource and health just to make sure our mission to build Communities which are environmentally conscious and promote individual action to tackle climate change was achieved.

A report by science journal, Nature, states that currently, roughly 11 million tons of plastic make its way into the oceans every year, harming wildlife habitats and the animals that live in them. The research found that if no action is taken, this will grow to 29 million metric tons per year by 2040.
Shockingly, National Geographic found that 91% of all plastic that has ever been made is not recycled, representing not only one of the biggest environmental problems of our lifetime but another massive market failure. Considering that plastic takes 400 years to decompose, it will be many generations until it ceases to exist.
Statistics like these are the reason why we continue giving our best to making sure our environment is protected.
On behalf of the entire team at African Cleanup Initiative, we wish to extend our deepest appreciation for the privilege of serving you.
We also use this opportunity to say THANK YOU to our esteemed partners who stood by us through a year filled with uncertainty, Notably The Coca-cola Foundation, Wecyclers, Inspired Next initiative and The Lagos State Ministry of Environment, Our media partners: Africa Independent Television, News Agency of Nigeria, ZoomIn Media amongst a host of other remarkable organisations.
2020 left us with a lot of learning, reflection and ideas which enabled us to stretch our capacity beyond what we thought possible, despite the challenges, our collective efforts enabled us to deliver some Amazing Projects which are captured below.
 

2020 HIGHLIGHTS:

  
1.    ENVIRONMENTAL SANITATION & ADVOCACY:
We were able to carry out 5 special projects under this project theme;
Green Independence Cleanup; which held in 8 Locations, engaged 265 Volunteers and 27 Partners while 1,264 People reached through sensitization & advocacy.
World Cleanup Day; This held in 3 Locations, engaging 218 Volunteer and 21 Partners while 728 People reached through sensitization & advocacy.
Clean For Impact Project; held in 2 locations, engaging 138 volunteers and 2 Partners (US consulate in Lagos & TREM VIC) while 276 people reached through sensitization & advocacy.
Cleanup Naija; held in 2 Locations engaging 224 Volunteers and 12 partners, while 704 people reached through sensitization & advocacy.
Green Xmas Cleanup; This was our last cleanup for 2020 and was held in 2 locations, engaging 83 volunteers and 2 partners while 358 people reached through sensitization & advocacy.
2.    ENVIRONMENTAL EDUCATION:
We were able to reach out to thousands of people, interest groups, school children and school owners under this project theme;
Recyclespay Educational Project; where 2,172 Students in 50 Schools were direct beneficiaries, the project also engaged 150 amazing Individual donors who gave their household recyclables, 11 Organizational donors, while recovering 38,740.97kg of Recyclables in the process.
Green Footprint Project; 4 Schools and 615 Students were reached while 2 partners were engaged on environmental education, Sustainable development goals as it relates to young people and community service.
Recyclespay Debate Competition; 35 Schools with 70 students participated with 35 Teachers and 5 partners engaged.
Training On The Business Of Recycling; we had 2 physical Sessions and 37 participants in attendance.
Radio (Insight With Aci); We streamed 71 Episodes on our Mixlr channel with 8 Programs and 1,502 Listeners.
Instagram Live; 25 Episodes on topics ranging from Climate action and responsible volunteerism were discussed while 1800 people were reached.
3.    ENVIRONMENTAL HEALTH:
Bottles For Pad & Diaper Project; We launched this project in two Communities and three schools, we reached 62 Individuals,  45 Items distributed, 2 partners engaged and 1,110.8kg of recyclables were recovered.
Sabi Midwife; This is a hub that brings together families (primarily mothers) to empower them with the right information to help ensure and promote safe motherhood. As we know that if you "save a mother, save a family, save a nation".  It was formally launched on 29th November 2020 and we have reached 120 families through this project with our primary focus on mothers and children.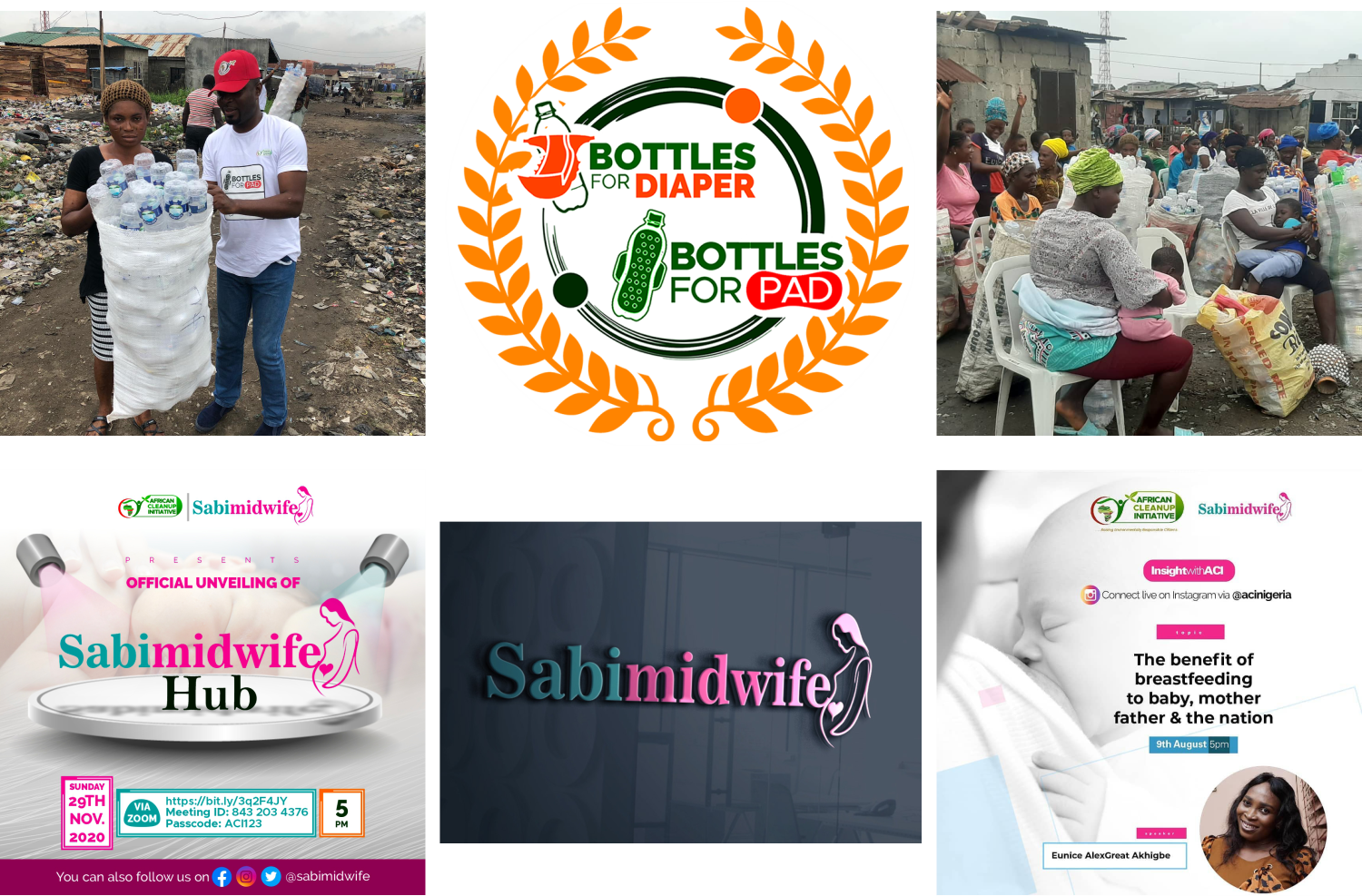 4.    COMMUNITY DEVELOPMENT:
Recyclespay Covid-19 Support Project; This was a special intervention carried out during the peak of the first wave of the covid-19 outbreak to support individuals and communities who were finding it difficult to get access to the money needed for food and daily upkeep, 416 Individuals across 4 communities were reached while 12 partners were engaged while 5,084.53kg of recyclables were recovered.
5.    PARTNERSHIPS:
We partnered with 67 amazing organizations whose support was essential in achieving our goals for 2020 and also supported 12 projects of other partner organizations.
6.    SOCIAL MEDIA:
Our year on social media was key in keeping the global community aware of activities and also passing a larger percentage of our message. When compared to previous years; we added 12,245 online followers across Facebook, Twitter, Instagram, youtube and tik-tok.
We wish you the best from this New Year and look forward to continuity, innovation and engaging you in more of our activities for the year 2021.
From all of us at African Cleanup Initiative.